Changing the Logo in Magento Emails
Hello!
Welcome again to the Manz Web Designs blog!  Today, I am doing my first post about Magento.
I spent a little time learning how to change the default logo to a custom logo for the emails going out from one of my clients, Rejoice Distributions, to those who sign up for an account, make a purchase, or any other type of communication from the website.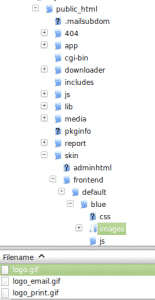 To do this, I took his logo and named it "logo.gif" then made 2 copies of it and named the logo_email.gif and logo_print.gif.  Then, I started up FileZilla and copied them to [The site's web root] > skin > frontend > default > [your theme] > images, overwriting the default Magento logos.
Then you will want to log into the backend of your Magento installation and navigate to System > Cache Management and in the Catalog section, you will see the button "Clear" beside the text "Images Cache"; you will want to click that to clear the cache.
This is all you will need to do in the back-end for this task.
One note, and this is the primary reason I wrote this post, about this process is to point out a "gotcha" that maybe others would have already thought of, but I didn't; your email client (I use Thunderbird) may also have a cache! I created an account and received the welcome email. The default Magento logo was there! I puzzled and puzzled over that and wasted a couple of hours until I happened to think about Thunderbird having a cache; I went out to my web client and looked at the email… lo! and behold! my client's logo!
Hopefully, this will help others with this, please feel free to comment below and offer other tidbits if you have any to offer!
Thanks,
Bud Manz
Manz Web Designs, LLC